The Royal Wedding Photo Booth Experience
A wedding photo booth is a machine that contains a DSLR camera and an amazing printer for those keepsake images.
It's both entertaining and unforgettable.
Your guests will love making prints and high resolution photographs, watch them go wild and let loose.
A photo booth provides wedding with a charm and will make the happening events ten times more fun.
So whether your having a wedding photo booth hire melbourne, sydney, adelaide or brisbane – we want to be there!
Traditional weddings are old-school, think about it…
Everyone wants something new these days, especially when it comes to the wedding, they want to keep it
fresh and a wedding photo booth might be just the right tool to infuse the wedding with
new emotions and feelings.
Simple and Easy Booking Process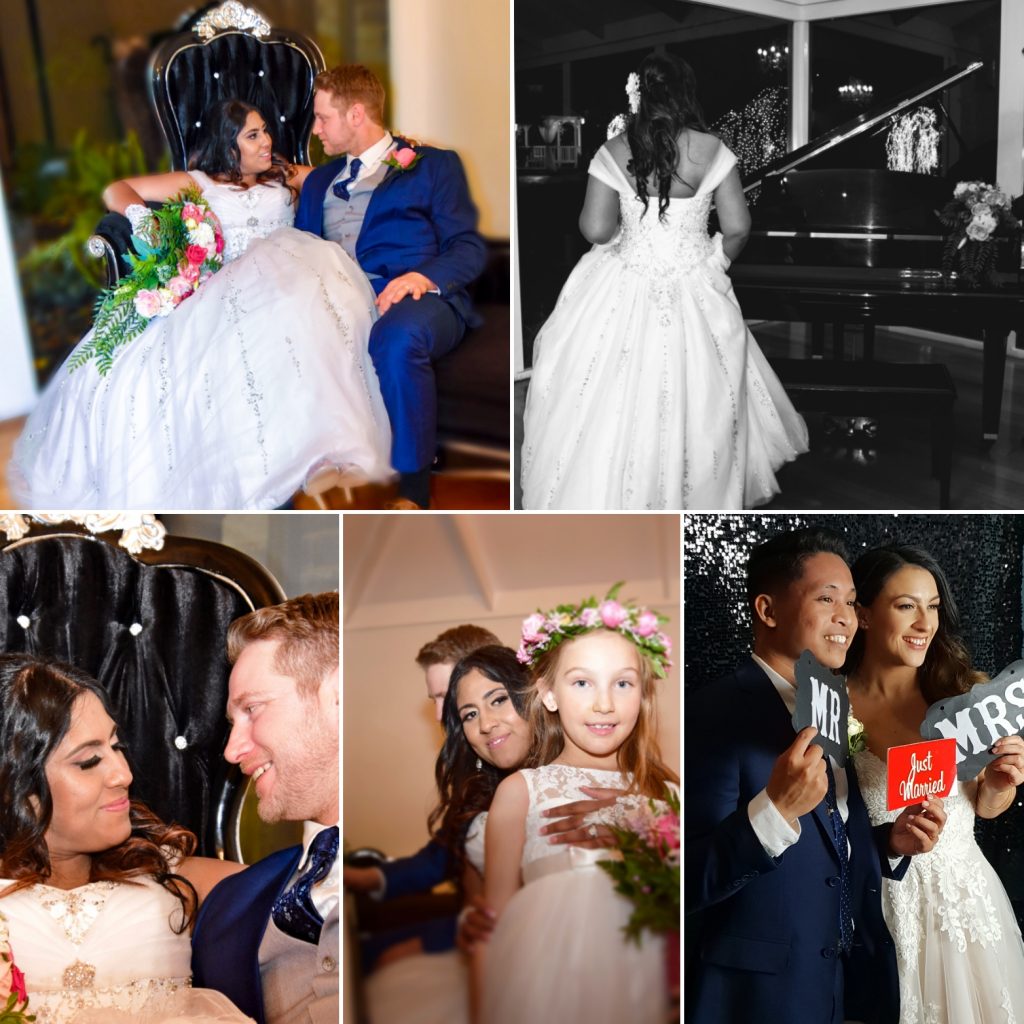 Complete Wedding Hire Packages
Full Wedding Platinum Package
Photography, Photobooth, Flower wall & Giant Love letters
2 Photographers up to 10 hours
1 Photobooth up to 6 hours
1 Flower all day hire
1 set giant love letters all day hire
Photography Inclusions:
2 Photographers
Flexibility – your 10 hours, tell us when to start and when to finish. 
Unlimited quality Images captured
All images professionally enhanced.
100 images professionally edited.
All images uploaded to a 60 day online gallery for easy access and downloading.
All editing inclusive (no surprise costs)
Photobooth:
Photo booth attendant.
Customized photo strips. 
Unlimited use of our hilarious range of props.
Instant Unlimited custom prints.
All photos provided in high resolution on a USB.
All our photo booths are tested and tagged.
Free delivery setup and pack up. 
Photo album scrapbook $50 or included in 5 & 6 hour packages.
Photography 
Photobooth 
Flower wall 
Love Letters
Photography 
Photobooth 
Flower wall 
Love Letters
Photography 
Photobooth 
Flower wall 
Love Letters
Why Hire Our Wedding Photo Booth?
Photo booths are gaining in popularity and you can be sure – it's a big hit on any wedding!
And there is a good reason behind it. Photo booths are a fun and innovative way to get you guests moving.
At some weddings, where the DJ isn't that great, or you don't have a professional photographer, well in that case it's a no brainier to hire our photo booth,
Photo Booths Around Australia
You can also use different accessories while taking photos, so that photos actually vary and have an exclusive feel to them. One of the biggest advantages is that a photo can be ready in 15 minutes after the take as well as you can preview the photos before actually taking them. 
Photo booth can be decorated any way you want so you can match the theme of the wedding to create the wedding atmosphere. Unlike dancing, using a photo booth does not require a lot of energy, it's a relaxing experience, which can be enjoyed by any guest.
 It's also important to find a good placement for the booth. You don't want it to be in the way but you also want it to be somewhere, where people actually walk, so that they would notice it. However placing it near the tables might not be the best idea, since constant flashes night be unpleasant for dining guest.
The Most Affordable Wedding Booth
Don't forget to notify everybody about the booth. You might ask the DJ or an announcer to do that, or you could do it yourself. The point is: guests should definitely know about the booth so that they get a chance to take a wonderful photo!
You could also ask people to insert their pictures in the photo album near the booth after taking them, so that after the wedding you have a photo album with every guest. After the wedding you can gather all the guests together and show them the photo album. Everyone will have a great time and this album will be a great source of wonderful memories for years to come.
One thing you should definitely consider is making your own background, decorations and accessories for them to compliment the booth and make it an overall fun experience.
There is also an option to brand the photos you make with your own wedding brand and choose a photo design you like the most!
It allows for highly personalized photo album and will remind anybody of your wedding when they check out the pictures later.
 Overall photo booth is a great addition to any wedding. It can make a real difference, especially if you know guests are not too much into dancing. It can help you and your guests to have fun at the weddings and will create memories for years to come! You should definitely give it a try!
What Clients Have To Say About Us
Manningham Council
We've worked with the city of Manningham for all their corporate events!
Clark Rubbber
Supplying our booth on a yearly!
Property Council Of Australia
AMAZING customer service.
We used Royal Booths for our wedding last week and the booth was so user friendly the setup was stunning and Julie was such a wonderful attendant.
Everyone had a wonderful time would highly recommend.
Amazing service cannot recommend enough.
Absolutely amazing service from first contact with Evans till end of my daughters 13th birthday party.
My texts were answered promptly from the word go.
I asked for a bubbly but respectful photo booth specialist and royal booths delivered above and beyond with Julie.
Photo booth was for 3 hours and the poses/photos did not stop.
My guests absolutely loved this experience, they had so much fun especially using the props that were offered when taking photos.
I recommended them to majority of my guest.
I will definitely be booking for future events!